BVfK-Member
Your free dealer
Since 1987, we are deeply committed in the sector of vehicle sales.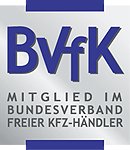 As a member of the Federal Association of Independent car dealers we can guarantee you high quality.
Click here
Offers
Used-Cars
We offer:

a constantly changing range of well-maintained year and used cars at attractive prices,

and also the entire service around the automobile.

On our modern business site you will get courteous and competent advice

Vehicle inspections are available on our brightly lit area day and night. Click here
Latest

Reports
24-hour run through BMW Welt



Munich, 27.05.2011

The Bavarian capital has long been known for their outstanding running events. Now there is a new, very special highlight for sports fans: the 24-hour run in the Olympic site are ambitious runners the opportunity, from 1 June at 20:00 clock for 24 hours to run on a 3.1 km long round of the Olympic Park. The BMW World opens its doors this particular sporting event and will be part of the route. Whom the 24-hour challenge is too big or, alternatively, to participate in the 6-hour run.

total of five start available categories: "Heroes" who want to run alone for 24 hours. The next time categories are four-or eight teams. In the category of "Run to Fun", teams from 12 to 24 participants, the route split into smaller units. The 6-hour run you can deny alone, in pairs or in four-person team.

Registration and further information: www.sog-events.de

Picture and Source: BMW Group em>
Premiere in Washington, DC: tenor Plácido Domingo is driving the BMW ActiveHybrid 7


Munich, 18.05.2011

With the provision of an exclusive company car, the BMW Group, the current musical commitment of the world-famous tenor Plácido Domingo at the Washington National Opera DC. The premiere of the opera "Iphigenie en Tauride" by CW Gluck went to the Spanish singer and conductor who is also director general of the house, now faced with a BMW ActiveHybrid 7th

When choosing his actual vehicle, Plácido Domingo had in mind for the first luxury sedan with BMW ActiveHybrid technology chosen and are thus once more his enthusiasm for alternative propulsion technologies in cars to the test. Already in 2007 he was among the first prominent personalities, who tested the hydrogen-powered BMW Hydrogen 7 in everyday traffic.

Picture and Source: BMW Group
In our gallery you will find many different photos. Stop by and take a look.

-Your Autoforum Augsburg



Autoforum Augsburg


.